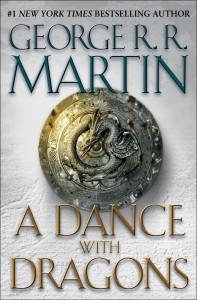 I'm not so interested in the genre, really, but my son got me hooked on this series nearly a decade ago. A Song of Ice and Fire isn't just your typical fantasy.. George Martin is a genius. Have you read his books?
The voice is so fresh and brutally honest, and while the characters may be harsh, the plotline and setting are undeniably realistic. Every time I read I fall in love with his style all over again. And I absolutely love the unpredictability of the twists, and how Martin is not afraid to follow a more realistic chain of events, with no mercy for his characters.
His newest book, A Dance With Dragons, may have taken it all a drop too far, but I don't have any real complaints. It went by so fast though… If you haven't already, you should check out Martin's website, he is very amusing and gives an interesting perspective on the life of a bestselling author.