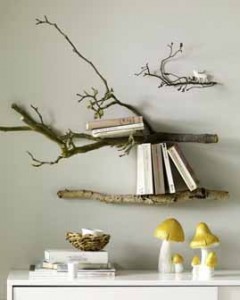 The weather has certainly made it difficult to function here in Vermont, but Nina, Conan and I are managing. It's a good thing we have so much firewood collected in the garage! Nina has been baking up a storm, and I think we have nearly enough muffins to feed the entire state. Conan loved the weather, and though he misses his daily swims he seems quite content to plow his way through the snow instead.
On a walk yesterday, Nina and I were shocked by how many branches and trees are lying around, broken by the wind and the weight of snow and ice. She had a great idea to collect some of the bigger ones to decorate the house, and she has been looking for inspiration before she gets started. We found all sorts of cool projects online, like a tree branch curtain rod, a lamp, shelves and picture frames. I personally liked a coaster idea that she found, and will be slicing up one of the branches later this afternoon.
What ideas do you have for us?