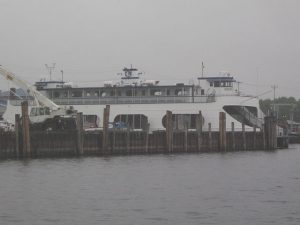 Since 1826 the Lake Champlain Transportation Company has been a reliable, safe, and especially friendly form of transportation for travelers desiring to cross the magnificent Lake Champlain on the western border of Vermont.
Travelers can choose among three different routes between Vermont and New York; Grand Island, Vermont and Plattsburgh, New York; Burlington and Port Kent; and Charlotte and Essex.
Grand Island-Plattsburgh is the northernmost route, taking 15 minutes to cross, with 24-hour service provided. Looking to connect with route 87 in New York or 89 in Vermont? Then this is the best way to go.
The best route for sightseeing is the central route at the widest part of the lake. It takes about an hour to get from shore to shore and offers brilliant views of New York and Vermont. In Burlington the dock is right in downtown, walking distance to the many shops, hotels, restaurants and especially the Burlington Waterfront.
At the southern part of the lake the ferry is a 30-minute voyage. The views are magnificent in summer and fall, when the leaves are displaying their golden hues. Although the crossing is open all year long, it can be temporarily closed in the winter months if ice conditions or strong winds make sailing hazardous.