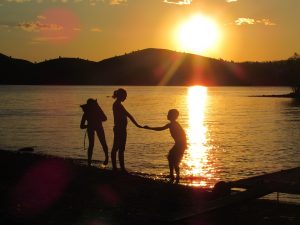 Summer in Vermont is just fabulous. For those who live here all-year round, there is absolutely no reason to travel for a vacation.  Instead, we suggest a staycation and herewith we give you just a few of the many reasons why.
So many people forget about the Vermont resort that offers a watering hole, scenic Berkshire bike ride and Martha's Vineyard beach (the latter of which is so un-publicized and stunning).  Take a trip to northwestern's Lake Champlain (discovered back in 1609 by Samuel de Champlain; hence the name) and enjoy the awesome quadricentennial celebrations that will be performed over the summer months.  One example of the latter is the parade, street vendors and staged musicians who can be found between July 2 and July 14 at Burlington's waterfront.   Two of the names there include: Tony Bennett and Steve Earle.
For somewhere different, check out the Barre landmark Hope Cemetery, a true open-air sculpture park giving each quarry worker their very own block of granite to carve into larger-than-life sculptures that would be put on their own graves. Amazing tombstones to look at include a race car and life-size human figures! Somewhat weird but definitely show-stopping!
And of course there is the fab family bonfire – American Flatbread – offering old-school summer fun for the kids such as bonfires, Mad River Valley farmhouse and just some old fashioned fun.  For the parents, there are hearth-fired pies topped with locally-sourced cheese and veg.
Vermont is awesome.  Summer is awesome.  Put the two together and you'll have a summer of amazing memories!