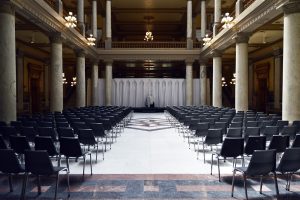 Earlier this month there was a Town Meeting Day in Vermont to elect local officials and determine ballot questions.  Herewith a brief review.
With Mayor Tom Lauzon stepping down, Barre chose Lucas Herring as new Mayor of the city.  Anne Watson in Montpelier ran unopposed. Bert Johnson, a Professor of Political Science at Middlebury College believed the day was quite typical for town meetings, summing it up as follows:
"There are certain matters of interest. Bennington decided not to go forward with a mayoral form of government. Some places are voting on mayor and Bennington was voting whether to have a mayor or not and they decided not! And then the other thing that I was mildly surprised by is the F-35 vote in Burlington which went against the F-35 despite the F-35's endorsement by a number of prominent elected officials. So that was a bit of a surprise. But by and large a fairly typical Town Meeting Day. Particularly with some of the new information and new reporting that's been done in recent weeks I think it's something we do need to do is really look at all this additional information and look at the concerns that have been raised and confirm that we still feel good about the direction we're going."
Another important ballot item was when 7 out of 8 communities from northwest Vermont approved the development of a regional dispatch center. Other big issues included: school budget votes (96% of which were approved); the approval of the formation of Central Vermont Internet to ensure a high speed community web provider; and other matters of concern to the region's citizens.  For more details, click here.