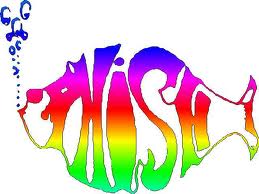 Anyone who lives here in Vermont knows how we were slammed by Hurricane Irene.  Vermont has been devastated by the hurricane that stormed through here two weeks ago.  Now, Phish is coming to the rescue, like they always seem to.
If you haven't been to a Phish concert, you've definitely got to go at some point to enjoy the experience.  Phish started at the University of Vermont in 1983 and the band played together for 20 years until they split in August of 2004.  Happily, they reunited in March of 2009 and have since started to play on a regular basis.  They are most often compared to the Grateful Dead but I think they are even more innovative and impressive.
They just started a ticket sale on Saturday for their upcoming concert that aims to raise money for the flood victims here. The concert will be on Wednesday at the Champlain Valley Exposition at Essex Junction.  They are actually limiting tickets to two to make sure that the tickets actually go out to locals.  I love those Phish.
They've created a "Friend of WaterWheel" package as well that includes parking, a reserved box seat, a poster and access to a Vermont craft beer tent.  And even better, WaterWheel is a foundation that Phish created to make contributions to charities that they support. Let's hope that Phish can come through in helping those of us hit by the latest natural disaster!