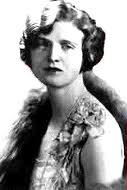 I've always been curious about famous people and their personal lives. There's something about well-respected people getting caught doing something they shouldn't be doing that gives me cause to chuckle somewhat.
So I was excited to learn that in a couple of weeks' time The Library of Congress will be releasing around a thousand pages of love letters between America's 29th President, Warren G. Harding and one of the women he had an affair with, Carrie Fulton Phillips.
What's even more interesting to know is that allegedly, Phillips wasn't Harding's only extra-marital affair. It seems that, according to archives kept by the Shapell Manuscript Foundation, he may have fathered Nan Britton's child during the time he was married to Mrs. Harding.
Indeed, in a letter he wrote to his politician friend George Washington Aldridge (who was also a Mayor of New York), Harding requested a suitable position as a stenographer be found for Ms. Britton:
She is anxious to secure a position in the service of your department in New York, if there is a place available.  If there is none I told her that I thought you would be willing to make inquiry where a very competent stenographer might be desired. I know every well she will make good anywhere.  
This piece doesn't prove he had an affair, but soon – with the release of pages by the Library of Congress – the public will be able to read many of his "extra-marital" love letters.