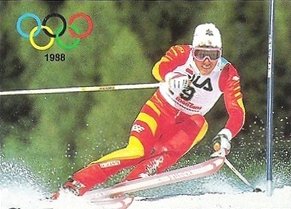 The leaves are changing colors, the thermometer reading is falling, and we Vermonters are dusting off the skis in happy anticipation of heading out to our many wonderful ski resorts. Some of them have added some surprises to their schedules, so here is a summary of the new things we can expect when we head to the hills this winter.
Killington Resort
For the first time in 25 years the eastern USA will have some amazing Alpine World Cup skiing. On November 26-27, the Audi FIS Ski World Cup will take place here in the Killington Resort. The public is invited to watch the Women's Giant Slalom and Slalom races which will feature the best women technical alpine skiers vying for first place on the Superstar trail. The trail is infamous as the New England steep which is the last Eastern US ski trail still open until late May or even June. At the base of the trail there will be a jumbo screen to watch the full race course, plus the weekend is filled with great fun including free live music, movie premiers and more.
Jay Peak Resort
The attitude of the managers at Jay Peak is that their 5,000 acres are one huge terrain park. However they do realize that some focus is needed, and have decided to increase their snowmaking capacity by 60 percent at its LZ and Jug Handle parks. They are also installing a new water line up the Interstate trail, plus placing 20 new guns along the length of the Interstate. The outcome of these changes will be that the park will be able to open sooner this winter, plus the park will be able to open learning runs at its Tramside area earlier, too.
Suicide Six Ski Area
Chair number 1 at the Woodstock Inn & Resort's Suicide Six Ski Area is being replaced at a cost of about $1.5 million. The new quad chairlift will double the number of passengers, and will give skiiers a more comfortable as well as quick lift to the top. The money for the overhaul is provided by a grant from the Laurance S Rockefeller Fund.