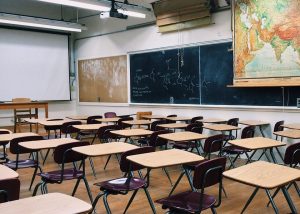 Vermont has just been ranked the fifth best state, nationwide for K-12 Education.  The national data aggregator SmartAsset gave Vermont an A- for its educational achievements.  While it is true that the state does spend more money per child than any other state, this is still great news for Vermont students and as such has a ratio of less than 10 students per teacher (with 22.8 to 1 in Utah).
Furthermore, the state is teaching the importance of taking care of the environment, being at the top of the country's implementation of the Universal Recycling law.  They are engaging in practical food education, putting an emphasis on local resources to reduce food waste, with which they are succeeding, simultaneously managing recyclable materials and creating food scrap diversion programs.
As children get older things still look good in Vermont.  It was found that the four-year high school graduation rate was 88 percent (although college attendance rate was relatively low at 54 percent).  and, this remains true for the environment as well.  The University of Vermont was recently recognized by the US Environmental Protection Agency as being a "conference champion" of the 2016-17 College & University Green Power Challenge.  This was in recognition of the fact that it has used more green power than any other school in the America East athletic conference.